Community Involvement & Service
ROBERT WOODALL AUTO – SERVING OUR COMMUNITY FOR OVER 30 YEARS
Robert Woodall Auto is known for our commitment to providing outstanding customer service, but we are also passionate about giving back to the community. It's our way of saying thank you to a community that continues to support our dealerships over the last 30+ years.
New York's Finest
NEW YORK'S BRAVEST!
Today, we had the privilege and honor to meet some of New York's bravest! Pictured below with local Fireman, Billy Scearce are some of the New York City Firefighters who not only battle every day emergencies in the BIG Apple but were a part of the September 11th events. We can not thank them enough for their bravery and all they do. Great bunch of guys right here!! This is the 14th year they have come to our area for the Martinsville Race they met Billy and other local fireman Ken Jones when our local fireman traveled to NYC and helped out with the September 11th tragedy. Enjoy your trip fella's and thank you again for your dedication and bravery it was our pleasure to help you!!
The Fire Dept of NYC it is the largest Fire Department in the US and is universally recognized as the world's busiest and most highly skilled emergency response agency.
Also, GREAT BIG THANK YOU to ENTERPRISE Danville Virginia office for helping us locate a van to haul them around for the festivities going on this weekend you truly went above and beyond to make sure they were taken care of.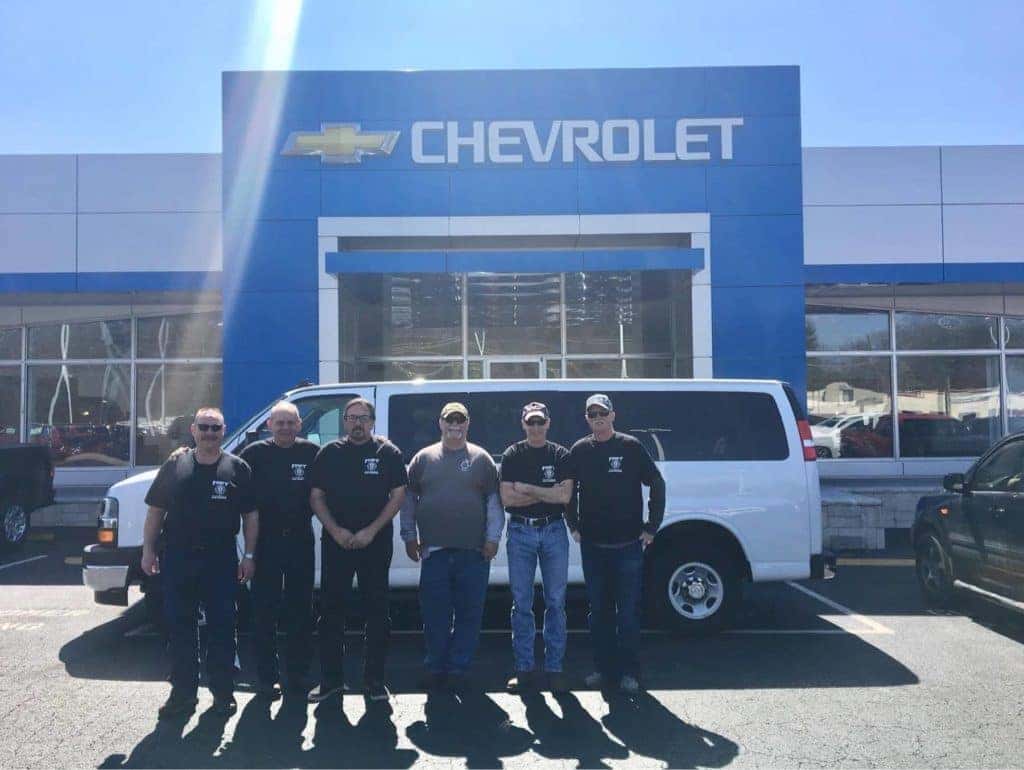 BELOW ARE SOME OF THE REMARKABLE ORGANIZATIONS AND EVENTS THAT WE HAVE PROUDLY SUPPORTED.
Danville Life Saving Crew
God's Pit Crew
Danville Family YMCA
Westover Christian Academy
Sacred Heart School
Carlisle School
Tunstall High School Booster Club
Dan River High School Booster Club
Chatham High School Booster Club
GW Band Parent Association
Patron for GW Football Cheerleader program
Danville-Pittsylvania County Fairgrounds
ALS Association
Lynchburg College
John Seamster Golf Tournament
Avery's Angels
SEPHA – 4th Annual Colt Starting Challenge Adventures in Missions
The Free Clinic of Danville
Caswell EMS Explorer Post 4911
Caswell Breast Cancer 5k
Ringgold Volunteer Fire & Rescue
Kentuck Volunteer Fire Department
Bachelors Hall Volunteer Fire Department
Providence Fire & Rescue
Blairs Volunteer Fire Department
Cornhole for a Cure- Cancer Benefit Evening
Light Cathedral Friends of Barnabas
Medical Care for children in Honduras Virginia
Carolina Classic Club
Omega PSI PHI Fraternity
Danville Shrine
Club Enactus at Averett University
1st Annual 5k
Miller Funeral Home
Mt. Hill Hunting Club
It's All About the Kids
Big Brothers and Big Sisters
Dan River Basketball
DCC Foundation
Nursing Club
White Oak School
PCYLA
Southern Sluggers
Meredith Gravely School of Dance
National American Miss
Boy Scouts of America
Blue Ridge Mountains
Council Prayers for Emma Thornton Golf Tournament
School Bell Marketing
Outdoorsman Show
Cross Roads Racin' & Tastin'
Danville Cancer Association
Special Olympics
Southside Saddle Club
Chatham Youth League
Chatham Rotary Club
River City Mustang Club
Little Life Pregnancy Center
New Saint Paul Baptist Church – Golf tournament
Danville Speech & Hearing Center
Dan River Region Association of Realtors
Westover Christian Academy Annual Golf Tournament Swing for A Cure
American Cancer Society Golf Tournament
Tunstall Football Kickoff
3rd Annual hole in one
Salvation Army Jr Livestock Show